5th Oct 2022
gabriel.algo
BONGOSKULLS — Did they really lose their skulls?
If you're around #Algofam — the main hashtag for the Algorand community on Twitter — for the past months, you've already seen one of these little guys and may still be questioning what all that fuss in Twitter was about.

Made by two artists, @LSRBLZT and @Beata_obscura, @BONGOSKULLS is an NFT collection of 666 unique characters that came to Algorand in April 2022. Since their first drop at Dartroom they had people interested in collecting their NFTs, reaching in less than a month a success that would make every new weekly drop a competitive experience between its collectors, raising the Floor Price to basically triple the Mint Price for two months.
It didn't take that long, though, and the hype started to decline. This collection has characteristics of two categories of collections: generative art, and pure artistic collections. From many collectors' perspectives, it seemed to be a generative collection because every NFT is from the same character and background (with some color variations), but with different accessories and clothes, or better said, with different traits. But from others' perspectives, including the creators, it is a pure artistic collection with no utility beyond the art itself, and the art style is really cool indeed.
Even though, the creators themselves had eventually implemented some simple utilities to their NFTs, such as rewarding holders of 5+ and 10+ Bongos with BongoKing and BongoGod, both limited edition NFTs, and giving different Roles in Discord based on each Tier:
Also, they had in their Roadmap two really special 1/1 edition Bongo, to be given to winners from two contests, BONGOHUNTER and BONGOGOD, as well as BONGOHOMIE.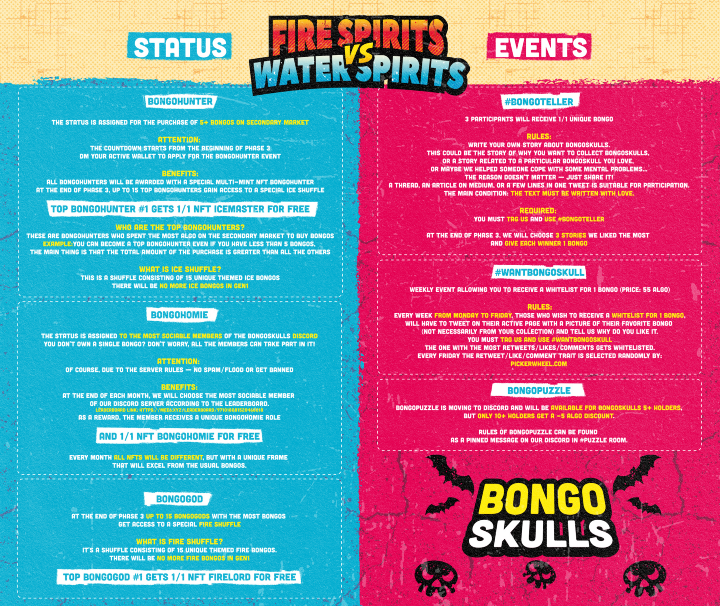 Another marketing and drop strategy that they implemented was the Puzzles, a Twitter game in which the participants needed to guess which iconic character inspired the creation of that Puzzle Bongo based on a silhouette and a little hint, and the first 10 to get it right would win a ticket to participate in the exclusive instant shuffle.
Both artists cared to maintain a dialogue with their community, which in return cared to share their thoughts and ideas about new strategies and ways of gathering more collectors and increasing the Floor Price. This demeanor is very common among NFT collectors, especially when the creators are new to the ecosystem: in a way, they feel part of the project and expect to at least be listened to by the creators, but some others are more insistent and harder to argue with. Nevertheless, both groups intend to help the collection to be more and more successful because they either wish that the artists achieve financial success or that the floor price increase so they can take a profit after investing their money in supporting talented artists.
. . .
The decline really began when the artists behind the collection started to get annoyed by the loads of suggestions that were being made by some collectors, something that other creators could feel jealous of because of the relative lack of engagement in their own communities. All this evidence makes it clear that they were doing a good enough community management, but the floor price continued to decrease. This led the creators to question some more trusted collectors about why could that be happening and what to do to make the floor price rise again, showing that they were up to a point interested in looking for guidance from those they considered that had more experience and maybe were less insistent.
Bongoskulls is dead!
A few weeks later, a discussion with one of the collectors happened in their Discord Server, in which one more new suggestion was being made. The discussion heated up and the outcome was that BONGOSKULLS decided to officially announce that, after releasing the last Bongo (BONGOSKULL #666), they would leave Algorand once for all.

Of course, the community was in shock. No one could see this coming but everyone could understand that this announcement meant the end of BONGOSKULLS.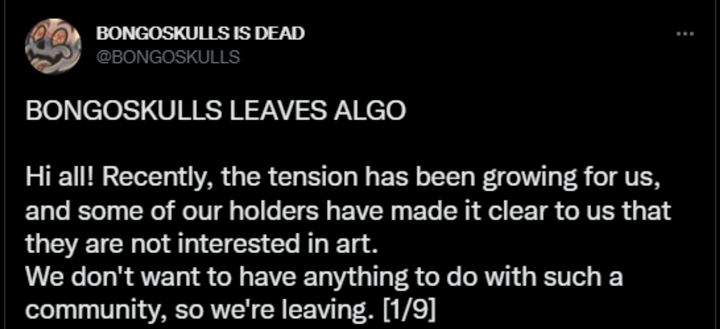 "…some of our holders […] are not interested in art […] so we're leaving."
And the collectors thought: "But what about the other holders that indeed were interested in the art?"
Many collectors were disappointed by BONGOSKULLS sudden decision and felt like they weren't being taken into consideration because some of them were never part of those stressful Discord discussions, and the others were collectors only because they love art and considered that to be a nice collection.

"…rest of the collection in ONE shuffle. […] no unique Bongos! […] We will generate Bongo from the elements we already have[…]"
For some, this was the last straw. They interpreted this decision as if it were ridiculous, even disrespectful. It was as if they were trying to offer some candies in return for some smiles from their abandoned collectors. After blaming a small part of the community for pressuring them to the point of giving up, trying to sell more than 3,000 ALGO in refurbished Bongos to the same abandoned collectors sounded like a bad joke.
. . .
Since the announcement on September 26th and by the time of writing the Floor Price has decreased to 9 ALGO. Lots of collectors decided to liquidate all or most of their Bongos, while others saw this as an opportunity to get more Bongos for a price three times lower than the latest Mint Price.
*All articles published on the Shufl.app website are the opinions of the author. As opinion pieces they may not reflect the opinions of Shufl Inc. These articles are created purely for entertainment and informational purposes only and do not constitute investment advice. Cryptocurrency and NFTs are highly volatile assets and you should always do your own research before making any investment.