2nd Sep 2022
Ryan "The RyBred" Hawks
Month in Review – August
August will close out as the highest month ever in terms of volume for Algorand NFTs. NFTexplorer puts the monthly total for August at 6,482,461 the highest monthly total by some margin.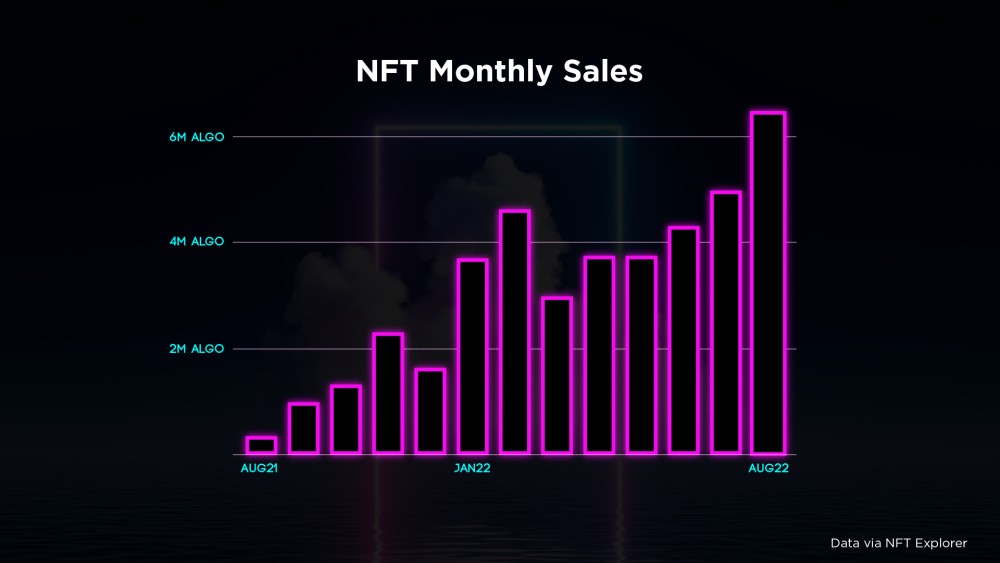 With big releases like Fracctal Tamers and steady sales to the established blue chips like Al Goanna and M.N.G.O. one has to wonder what will be left over for Al Goanna's V2 projected release in September. But degens always find a way to make things happen. Read on for a month in review on August Algo NFTs.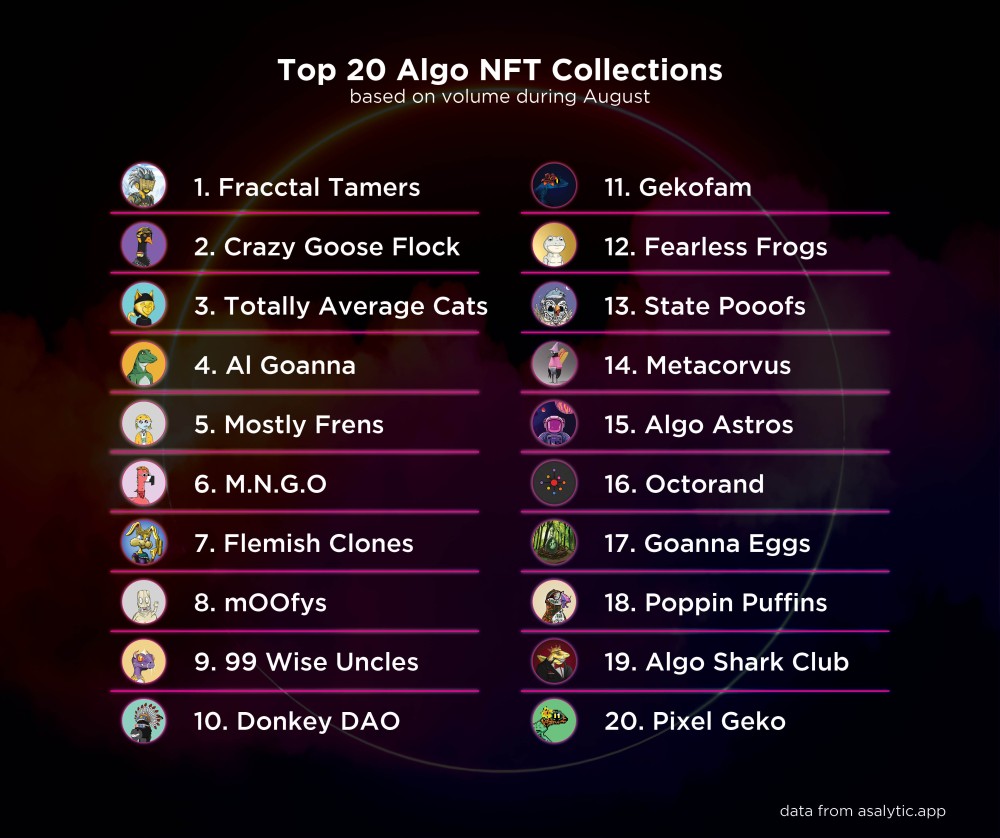 Fracctal Tamers is absolutely annihilating every other project with their launch. Their 879k volume within 30 days not only puts them far and away the top project of the month, but 6th all time, just behind Flemish Clones.
Crazy Goose Flock continues to rise. They surpassed 1 million total volume for the month, becoming just the fifth project to do so. The Goose are loose!
Totally Average Cats had a strong release in the last week of July. They continued to build on their momentum for August. The current floor price is just over 100A, about triple their mint price. In terms of total volume, they are threatening Flemish Giants for taking over top 10.
Al Goanna continuing their steady stream of sales to keep top 5. Next month, the wildly anticipated V2 is set to release, which will likely do similar numbers to the Fracctal Tamers.
MF and MNGO partnering for over $300k total. MNGO floor has dropped to slightly under 1000A, but are still seeing consistent sales. MFs finished just slightly ahead of them on the month as people try to gather as many $shrimp as possible to evolve them.
Flemish Clones saw a solid rise in floor price this month. They managed to clear 100k yet again for August. Now that artist Blockrunner has finished up the Tamers collection, it will be interesting to see what comes next for them.
m00fys are an excellent feel-good story. The collection was created with the intention to donate 100% of sales to charity, including royalties. They make look a little frightening, but all m00fys have a heart of gold.
99 Wise Uncles, or WUs are the smallest collection in the top 10. They achieve their rank similar to Goanna – with a few large sales. It will be interesting to see if they keep their momentum in the coming months.
DonkeyDAO quietly takes tenth in volume on the month after building momentum the past few months. Keep an eye on them as a riser for the remainder of the year.
Top New Project: Fracctal Tamers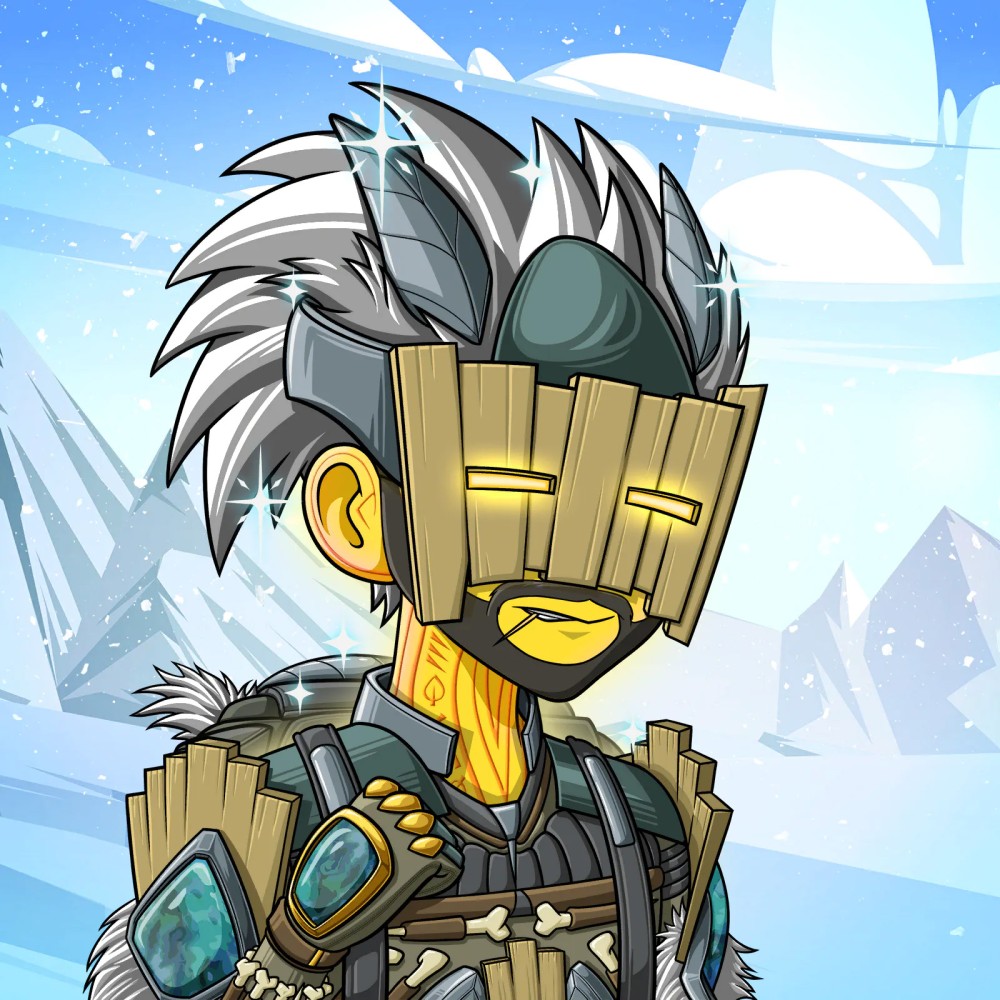 As already mentioned, Fracctal Tamers burst onto the scene in August. But it hasn't been out of nowhere. The team at Fracctal Labs has been building the community and previewing their overall project for months. The craziest part is that the Tamer series is only a small part of this project. Fracctal Monsters is a monster tamer style game. The Tamers are just the Profile-Picture (PFP) to be used more for aesthetic purposes. It is worth noting that each Tamer owned will give people one plant-type monster upon release to be used in the actual game itself. However, each element will be slowly rolled out meaning this is just the beginning of the Fracctal madness.
Speaking of madness though, Fracctal Tamers did almost 70kA in volume just in a 24-hour span, as one wallet went on a spending spree. That day alone would have been the 11th highest volume for the month of August!
One-Year Anniversary of Note: Alchemon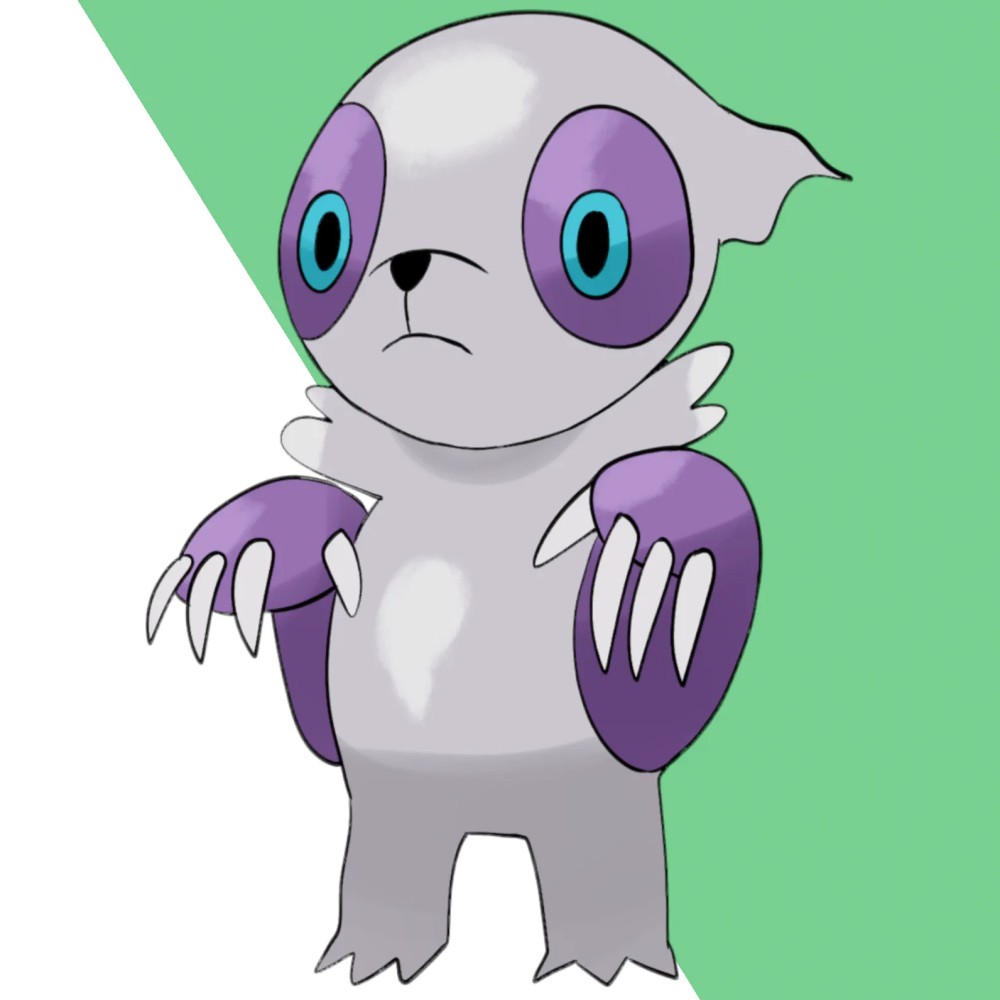 August is the month of monster tamers! Alchemon also reached their one-year anniversary for the project in August. Alchemon is one of the more unique projects on Algorand, sittiong at number eight all-time in volume despite having a floor of just 3A. Like Fracctal Monster, Alchemon's NFTs are also usable in their blockchain video game, and users can train and evolve their monsters to make them even stronger.
Here's to another year of Alchemon!
Gen Two Release of Note: METACORVUS
METACORVUS is worth noting here for their V2 due to the way it came about. Initially their second generation was going to be an exact port of their 2-D V1 into 3-D. After the announcement, there was outcry from the community, feeling it was unfair to those that owned the original 1/1s that there would now be an almost identical version out there. So the creator decided to get back to square one and make a more generative V2 collection. This one is trait based, but still 3-D.
Kudos to Corvus for taking community advice!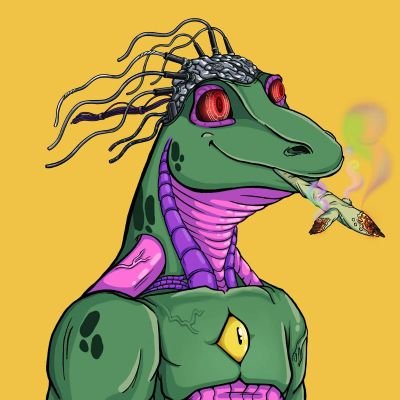 Ryan is a person whose life purpose empowering people to pursue their passions. He has a Masters in Sport Psychology and is starting his consulting business, Hawks and Co. Pristine Performance. By day he works in social services and by night he's an algo NFT degen. His other main interests include fantasy football and Final Fantasy.
*All articles published on the Shufl.app website are the opinions of the author. As opinion pieces they may not reflect the opinions of Shufl Inc. These articles are created purely for entertainment and informational purposes only and do not constitute investment advice. Cryptocurrency and NFTs are highly volatile assets and you should always do your own research before making any investment.