16th Aug 2023
Shufl
Shufl Revolutionizes DeFi Landscape with Launch of Comprehensive Suite of Tools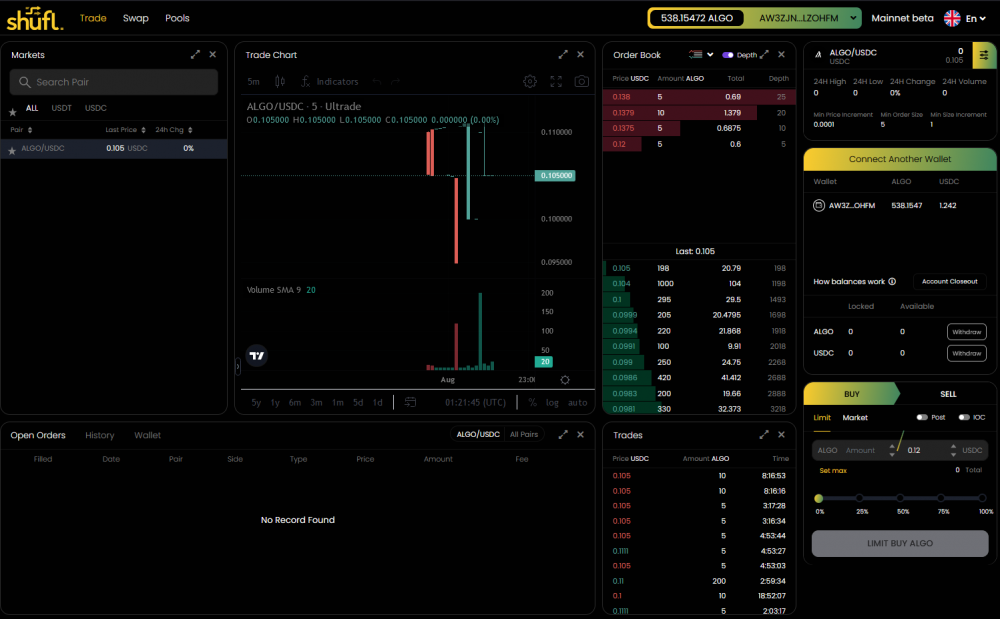 Partnership with ULTRADE brings advanced Orderbook DEX and AMM to Shufl's NFT Platform
Shufl, a leading name in the Algorand NFT ecosystem, is delighted to announce a game-changing partnership with ULTRADE, marking the launch of an expansive suite of cutting-edge DeFi tools. With this exciting collaboration, Shufl aims to enhance its current NFT platform by introducing powerful DeFi capabilities, enabling users to seamlessly exchange both fungible and non-fungible tokens.
The centerpiece of this collaboration is the introduction of an Orderbook DEX and an Automated Market Maker (AMM) to Shufl's platform. The Orderbook DEX, currently available on Algorand, supports a diverse array of Algorand ASA pairs, including those bridged from other blockchain networks. Through its user-friendly interface, traders can access advanced functionalities such as limit orders, market orders, post-only orders, and immediate-or-cancel (IOC) orders, offering a comprehensive trading experience.
Incorporating ULTRADE's pioneering approach to DeFi, Shufl's AMM aggregates trades from prominent Algorand platforms like Humble, Tinyman, and Pact. This integration leverages liquidity sources from multiple platforms, providing users with a consolidated market view. This empowers traders to make well-informed decisions and access optimal prices within the Algorand ecosystem. ULTRADE automatically navigates the most advantageous low-price, high-speed trading routes, sometimes executing numerous swaps in a single transaction.
Founder of Shufl, Ben Wyeth, expressed his enthusiasm, stating, "ULTRADE's pioneering approach to DeFi allows Shufl to offer an enhanced user experience. We are thrilled to be the first platform to allow users to seamlessly trade both fungible and non-fungible tokens in one platform."
The Orderbook DEX and aggregator AMM are already live, ushering in a new era of DeFi capabilities for Shufl users. To celebrate this momentous launch, Shufl is offering a variety of enticing rewards and incentives to early users, including captivating NFT giveaways throughout the launch period.
As Shufl continues to innovate and expand, this partnership with Ultrade underscores the company's commitment to providing its users with a holistic ecosystem that integrates both NFT and DeFi capabilities.
About ULTRADE
DeFi-as-a-Service: Full-featured DeFi trading ecosystem giving brands, projects, and communities the ability to generate and capture trading fees from their audience in an owned experience.
*All articles published on the Shufl.app website are the opinions of the author. As opinion pieces they may not reflect the opinions of Shufl Inc. These articles are created purely for entertainment and informational purposes only and do not constitute investment advice. Cryptocurrency and NFTs are highly volatile assets and you should always do your own research before making any investment.