25th Aug 2022
Shufl
Welcome to Shufl
Our mission statement for Shufl is simple. We aim to create the home of Algorand NFTs through a community focused NFT marketplace that is dedicated to empowering creators and communities. We want to be a catalyst for the growth and adoption of Algorand NFTs.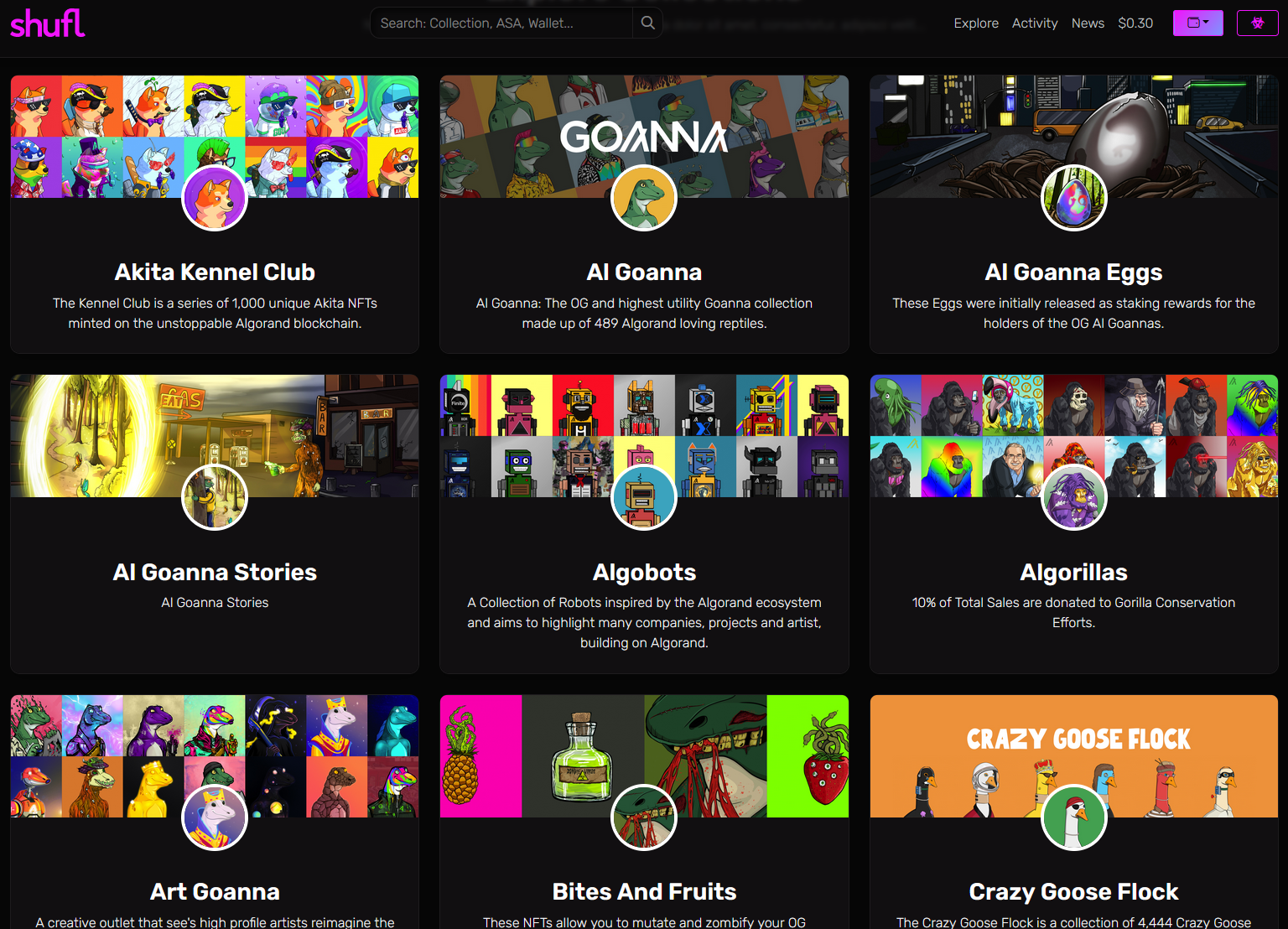 I wanted to kick things off and give you all a glimpse of how Shufl came to be, what we are looking to build and goals for the future.
Creator
At Shufl we put artists and creators first. This is why we have adopted a flat rate of 5% royalties on all marketplace sales. We want to empower artists of all sizes to share their work with the Algorand community and believe they should be rewarded for doing so. 
A transparent royalty policy also makes it easy for buyers and sellers to know the costs of transacting via Shufl. It is our hope that by taking this stance we can help see a minimum 5% royalty become a standard across all Algorand marketplaces. 
Community
Shufl has been developed by the team behind the Goanna NFT project as there was a need within the Algorand NFT community for a fully functional marketplace with a design focused approach that could rival those seen on other blockchains. 
Shufl has committed to sharing 7.5% of our platform fees with the Goanna DAO. This sustainable source of income will allow this community DAO to continue to pioneer the development of the Algorand NFT ecosystem. 
Sustainability
Inspired by Algorands carbon negative approach, Shufl will support the Gilbert Goanna Tree Fund by donating 2.5% of our platform fees. We believe NFTs can and should be used to drive real impacts and are proud to be able to play our part to help change the narrative that NFTs are bad for the environment.
Why Shufl?
In order to launch Goanna V2, we needed to create tech solutions that facilitate the different redemption methods for eggs, pineapples, fruit etc. After having discussions with the existing marketplaces on Algorand it became clear the only viable option was to build a custom solution in house. So we onboarded a dev team and got to work. 
Through that process we had the beginnings of a basic but functional marketplace. Around that time, through the Goanna project, I was heavily focused on onboarding new users into the Algorand NFT ecosystem. What became apparent was that there was a level of friction in terms of UI/UX new users felt when starting to explore Algorand. First impressions are incredibly important and we want new users to the chain to be excited and energised by a platform that best showcases our incredible breadth talent. 
When you look at the major marketplaces on other chains such as Opensea, Looks Rare, Magic Eden etc, they all share a familiar and intuitive user interface. Yet here on Algorand for some reason we had attempted to reinvent the wheel. Now this is not an attempt to throw shade on the other platforms. The community today would not be what it is if it wasn't for the pioneering efforts of the likes of Rand Gallery and AlgoX. However it was clear there was a genuine need for a marketplace that could offer a user experience that was comparable with that seen on other chains. 
What's Next? 
Our goal is to grow Shufl both in terms of the creators we support and the features we offer to users. Over the coming weeks and months you will see the rapid deployment of an exciting range of features and tools. In the short term we will onboard as many existing collections as possible and shortly be offering full support to all creators. A host of innovative features will continue to be added to the platform as we expand our current offering. 
On the news and media side we will be increasing the frequency of articles and shows. We want to use our platform to give a voice to the talented creators within the community. 
I'd like to take the opportunity to thank the Algorand community for the support they have shown the Goanna project over the last twelve months and am excited to help further drive the adoption of Algorand NFTs by the broader ecosystem. Lets build a marketplace together that we can all be proud of.
LFG
Benji 
*All articles published on the Shufl.app website are the opinions of the author. As opinion pieces they may not reflect the opinions of Shufl Inc. These articles are created purely for entertainment and informational purposes only and do not constitute investment advice. Cryptocurrency and NFTs are highly volatile assets and you should always do your own research before making any investment.